Vaccinations Questions and Answers
Clio Urgent Care offers vaccinations to help back up your immune system against infections and diseases. For more information please call us or simply walk-in. We serve patients from Clio MI, Vienna Twp MI, Montrose MI, Birch Run MI, Millington MI, Mount Morris MI, Flushing MI and Otisville MI.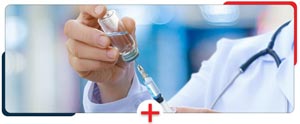 We have come a long way as a society to maintain proper hygiene standards and neutralize many destructive illnesses. However, diseases are not something we can wish away ultimately, and vaccinations play a crucial role in keeping the public safe from infectious disease. At Clio Urgent Care, we are happy to provide numerous vaccinations to protect you, your family, and our community from the perils of illness and disease.
Why should my child or I get vaccinated?
Vaccinations protect you, your family, your community, and the world at large from diseases that can be destructive and even fatal. If it seems unnecessary to safeguard yourself from once lethal illnesses that have since been neutralized, vaccines are the reason for that neutralization! However, destructive bacteria and viruses that can cause illness or death, like measles, meningitis, or whooping cough, still exist. As a result, it is essential to get vaccinated to keep those illnesses neutralized and out of the public. Vaccines are safe and necessary to keep yourself healthy both now and in the future.
What kind of vaccinations do you provide at Clio Urgent Care?
At Clio Urgent Care, we provide a number of different vaccinations, including:
Hepatitis B
Influenza A and B
Tetanus shots
Meningococcal
Covid-19 vaccines (Pfizer, Moderna)
Give us a call for more information on the vaccinations that we provide at Clio Urgent Care! We are happy to provide vaccinations to patients of all ages.
How do vaccinations work?
Vaccines contain a minimal trace of the same germs that cause the disease that they are designed to immunize you from acquiring. For example, if you are getting a measles vaccine, the vaccine will contain a tiny amount of the measles virus. While this aspect of vaccines may seem counterintuitive, the amount of the virus in the vaccine is controlled so that your body will be able to produce the antibodies needed to kill the virus. The amount of the virus in the vaccine will either be weakened or killed so that you don't get sick. After the vaccine, your immune system will remember the structure of the virus, so that if it ever enters your body in the future, your immune system will be able to react quick enough to kill it before you get sick from the virus. In this way, vaccines provide you with immunity from a disease without your having to get sick from it first!
Does insurance cover vaccinations?
Most health insurance companies are required by the Health Insurance Portability and Accountability Act (HIPAA) to provide coverage for vaccines without any copayment needed on your part. As such, if you have medical insurance, you should be able to get vaccinated without it costing you a dime! We accept most medical insurance providers at Clio Urgent Care. For a full list of the insurance plans that we partner with, visit our Insurance page! Please make sure your insurance is active and up to date before your appointment.
Where can I get vaccinations?
You can get vaccinations right here at the Clio Urgent Care clinic! Our building is located at 4272 W. Vienna Road in Clio, Michigan. If you need a vaccination or two, you do not need to make an appointment with us. All you need to do is walk-in, speak with our friendly receptionists, and we will promptly provide you with the necessary vaccinations!
We encourage you to come to Clio Urgent Care for any vaccinations you require! Our clinic is open seven days a week, during the hours of 9:00 AM to 9:00 PM from Monday to Friday, and 9:00 AM to 6:00 PM on weekends and holidays.