Urgent Care Doctors Accepting New Patients in Clio, MI
If you are looking for urgent care services, then visit Clio Urgent Care in Clio, MI. Our professionals can handle any urgent healthcare issues. We are located at

4272 W. Vienna Road Clio, MI 48420

. For more information, please

call us

or simply walk in! You can also request an

online appointments

.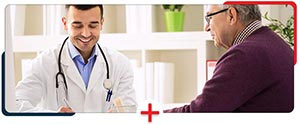 Table of Contents:
How can I find a doctor for illness in Clio, MI?
Do urgent care doctors accept new patients?
What questions should a new patient ask the doctor?
How do I choose a new doctor?
Are new patients accepted at Clio Urgent Care?
Clio Urgent Care, conveniently located at 4272 W. Vienna Road Clio, MI, proudly provides urgent care services to our amazing community members. We offer services such as acute injury treatment, STD testing, pediatric care, covid-19 testing, illness treatment, and much more. Our team is dedicated to offering affordable, efficient, and professional health care to every person in our surrounding area who is in need of urgent medical attention. To help you choose an urgent care center, we have answered a few common questions related to urgent care.
How can I find a doctor for illness in Clio, MI?

When looking for a doctor, take note of what kind of illness or condition you have. For annual checkups and preventative healthcare visit your primary care physician, for life-threatening injuries go to the nearest emergency room, and for immediate nonlife-threatening injuries visit an urgent care center. Our clinic treats a variety of illnesses such as severe stomach flu, influenza, bronchitis, strep throat, mono, and pneumonia.
Do urgent care doctors accept new patients?

Urgent care centers accept new patients every day! We usually run on a walk-in basis but will keep all of your information on file if you come in more than once. Some urgent care centers are combined as walk-ins, general care clinics, or even a hospital. If you choose to make an appointment, request which doctor you wish to see in order to build a strong, professional relationship with them.
What questions should a new patient ask the doctor?

As a new patient, you may have some questions for your doctor. Don't be nervous to ask, your doctor will be more than happy to answer any questions, concerns, or worries you have.
 
Questions you should ask:

-Can you explain what my treatment options are?
-What is causing my symptoms?
-What do these tests screen for?
-When will I get my results back? Will I hear back if they're negative?
-What symptoms should I take note of?
 
Questions your doctor may ask you:

-What's your reason for the appointment? What are your symptoms?
-Does your family have any history of cancer, diabetes, or any mental health disorders?
-Are you currently on any medications?
-Are there any prior or current conditions I should know about?
-How often do you exercise?
-Do you follow a diet?
-Are you sexually active?
-What's your work and home life like? Are there any stressors affecting your physical or mental health I should know about?
How do I choose a new doctor?

There are so many factors to consider and we understand that trusting someone to take care of your health is a big deal. This is why we've compiled a shortlist of things you should consider when choosing a new doctor.
 
– Location: make sure you're searching for doctors in your surrounding area
– Reviews: look online at reviews and ask friends for recommendations
– Referral: get a referral from your current doctor, they should have a list of great specialists for your specific needs
– Credentials: research doctors online to find their credentials, education history, and experience
– Office hours: make sure that their office hours align with your schedule
– Insurance: check their website to see which insurance policies they accept
– Make an appointment: schedule an appointment with a new doctor and if you feel comfortable with them, that's a fantastic sign
Are new patients accepted at Clio Urgent Care?

New patients are always welcome and accepted at Clio Urgent Care. We serve our patients on a walk-in basis but you are always welcome to call ahead and make a same-day appointment to ensure you get priority over walk-ins. We provide healthcare to patients from Clio, MI, Mount Morris, MI, Vienna TWP, MI, Otisville, MI, Birch Run, MI, Flushing, MI, and Millington, MI, 7 days a week!
 
If you're looking for a new urgent care center, consider choosing Clio Urgent Care. To book an appointment, call us at (810)919-9415 or walk in at your convenience. We look forward to meeting you and helping you with your urgent care needs. We serve patients from Clio MI, Vienna Twp MI, Montrose MI, Birch Run MI, Millington MI, Mount Morris MI, Flushing MI, and Otisville MI.